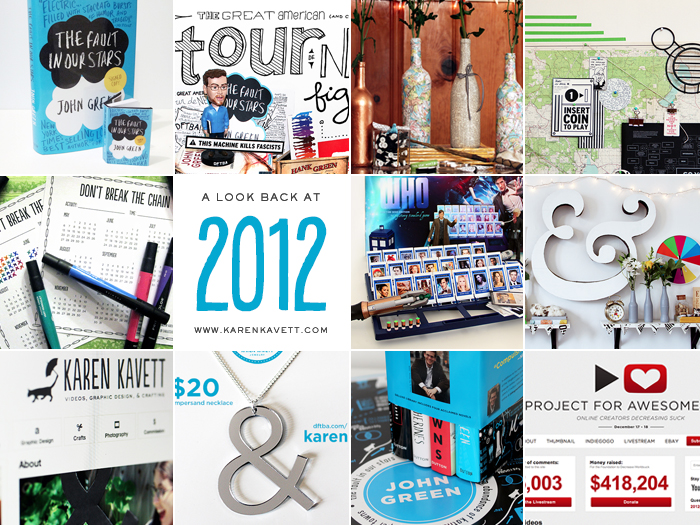 Hello everyone and welcome to 2013! Unfortunately I'm still sick with a sore throat (it got better after Christmas but then New Years Eve happened and now it's terrible again). So even though I can't make a video yet about my new year's resolutions, I wanted to gather up all the best stuff I made in 2012. Stay tuned for some hints on what's coming up next in 2013, but for now, enjoy this trip down memory lane.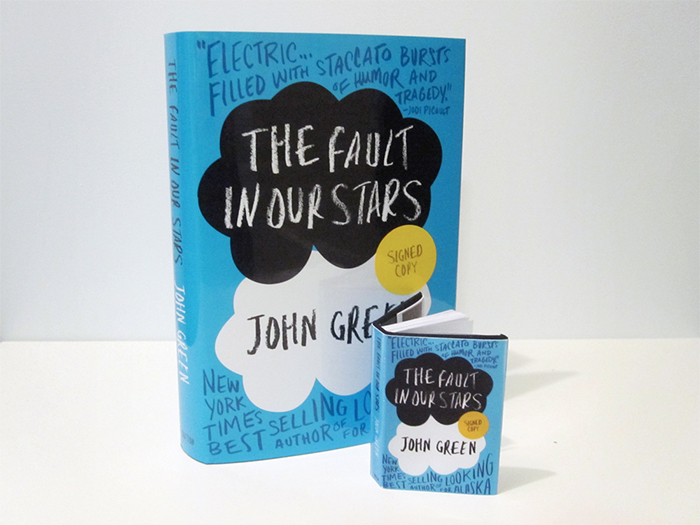 One of the first big craft projects of the year was the miniature copy of The Fault in Our Stars. This fantastic book by John Green had just been released, so I decided to reprise my miniature Paper Towns video to make a mini TFioS as well!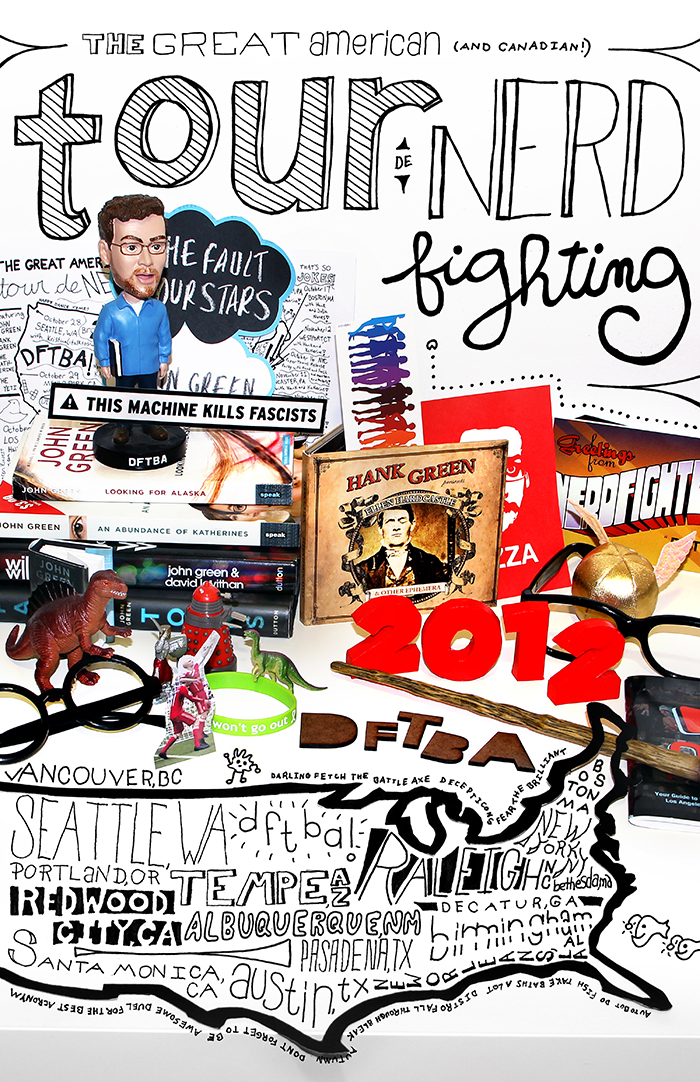 Moving into February, I designed this poster for the 2012 Great American Tour de Nerdfighting. I had the chance with this poster to mix photography of real objects with hand drawn typography that was digitally added in. I got to go to the Redwood City stop on the tour, and it was super fun, so if you're in the UK, I definitely recommend checking out their February 2013 UK tour (which I designed merch for as well)!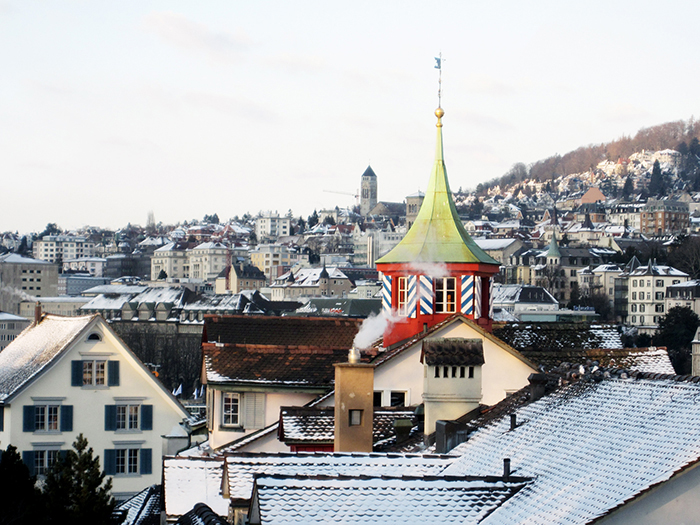 Later in February, I had the chance to go to Zurich for a business trip with YouTube, which was the first time I'd ever been to Europe. I had a great (if rather cold) time, and you can check out all of the photos from the trip in this blog post!

Back to videos, after Gunnarolla released The Comic Sans Song, I had the idea to make a video explaining the history of Comic Sans and why everyone hates it so much. That video did so well that I also did a follow up video about the history of Papyrus!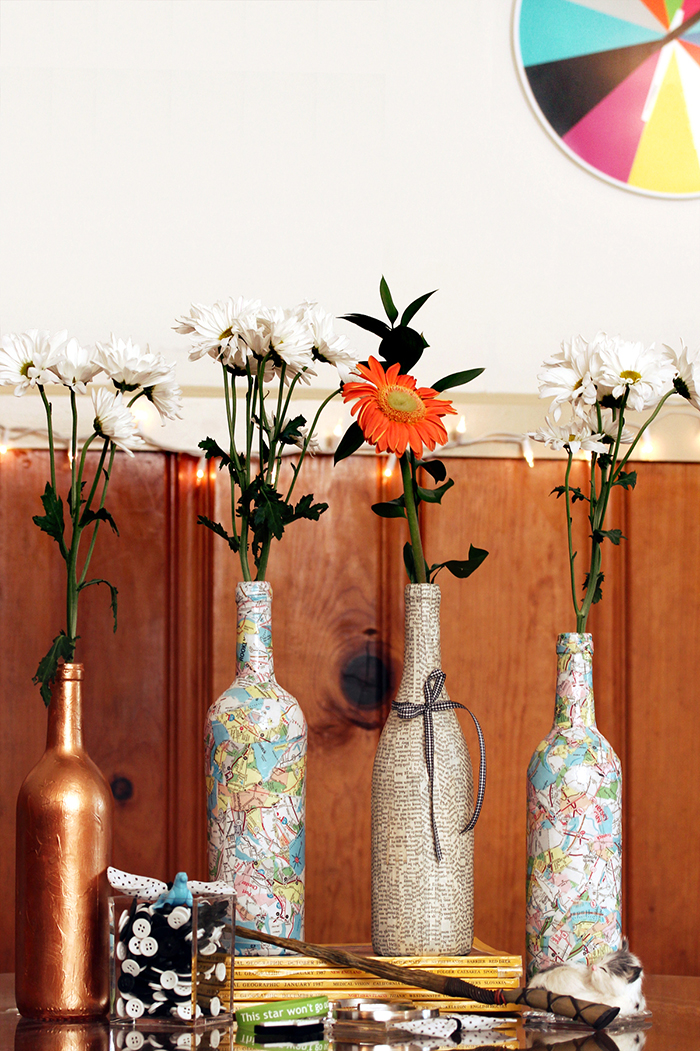 In March, I posted my first high quality craft video – collaged wine bottles! I love making these wine bottles, since they can be gorgeous vases, bookends, or just nice objects to display. This was also the start of turning my channel from being primarily design focused to also including an equal amount of crafting and DIY projects, which I've enjoyed sharing with you so much over the past year!

In April, I asked one of my friends to help me with a springtime photoshoot, so that I would have some high quality and current photos to use as publicity photos, social media avatars, etc. I really love how the whole shoot came out, and now I'm starting to get the itch to do another one!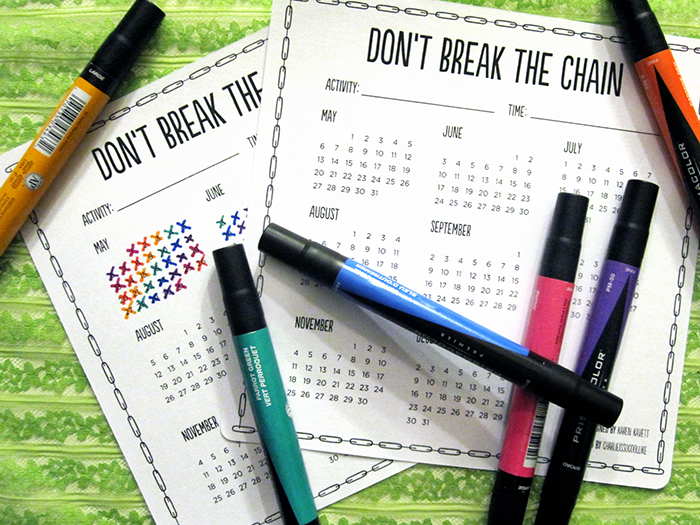 Moving on to May, this post became one of the unexpected hits of the year. After seeing Charlie McDonnell's video Don't Break the Chain, where he explains how he crosses days off a calendar to help him stay on task every day, I designed a nice version of the calendar to distribute for free online. I was glad it was so well received, though I did then proceed to get emails and Tumblr messages and at replies almost every day for the next eight months asking for a 2013 version. A few weeks ago I obliged, and you can now click here to download the year-long 2013 Don't Break the Chain calendar.

Coming back to videos, in May I decided to launch a new series that would combine graphic design and crafting, and the result was the three part Graphic Design Without a Computer. In this series, I showed how you can practice some basic design skills using things like paper and rulers and xacto knifes, without needing any fancy computer programs. You can watch Part 1 above, and also check out Part 2 and Part 3.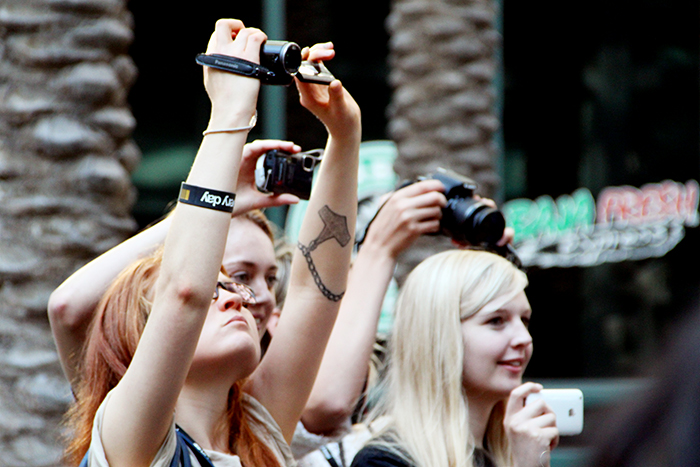 July was the beginning of conference season, and first up was VidCon 2012. This was the third annual VidCon, and it was even bigger than ever, with about 7,000 people attending. I had an amazing time, and I took a ton of photos and video, which you can see in this blog post. The photo above is my favorite photo I took all weekend, and I explained why in another blog post.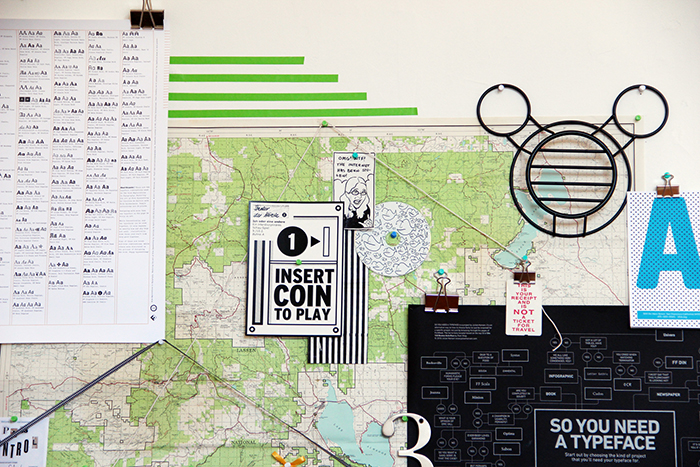 In the downtime between VidCon and LeakyCon, I put together this new wall collage, since I had recently moved and had all this blank wall space and nothing to put on it. I also experimented with stop motion video rather than just filming through and speeding it up, which I think was a really cool effect. You can check out the video and more photos of the collage in this blog post.

Speaking of LeakyCon, I had a fantastic time there as well. I got to interview MinaLima, the graphic design studio behind all of the Harry Potter movies, which was an opportunity I never thought in my wildest dreams I would be able to do. I also got to see a ton of friends who I only get to see once or twice a year, and being surrounded by thousands of Harry Potter fans, it just felt like coming home. I embedded my recap video above, and there are more photos in this blog post.

After LeakyCon, it was time to get down to some serious crafting. I had had the idea for a while to make a Doctor Who Guess Who set, which I'm sure has been thought of before, but I had never seen a really high quality version of it, complete with painted boards and scoring pegs and a custom box. Both the mock commercial and the making of video did really well, and the game was featured in a ton of press across the internet.

September also brought a big life change when I quit my job at YouTube. I had been working there for a little over a year, since July 2011, and it was the first real job I had had out of college. However, I just wasn't very happy there anymore, so I took the leap and left, so that I could pursue videos and freelance work full-time. A few months later, I'm still very happy with this decision, since I couldn't have accomplished nearly as much as I have over the past few months if I was still working a full time job.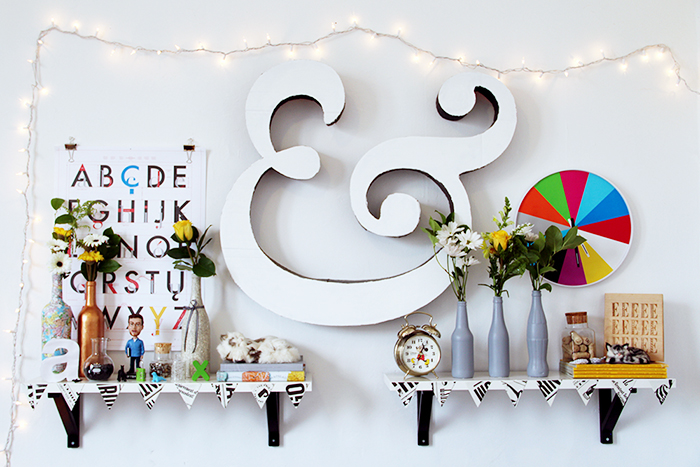 The first big project I did after leaving my job at YouTube was decorating my new video background. I really love how it came out, and I'm excited to redo the whole thing again for the new year!

One of the most watched videos I put out this year was this collaboration with Tyler Oakley, where we craft costume glasses out of ordinary 3D movie theater glasses. This was part of a Halloween crafting series I did, and you can watch all the rest of the videos in this playlist.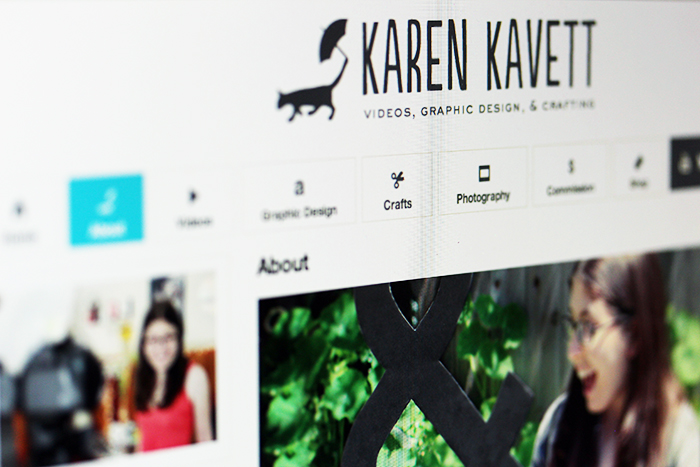 One project that was a very long time coming was my new website design! The old design had worked for a few years, but I had definitely outgrown it, and I'm so happy with how the site looks now, with more white space and bigger photos and more consistent branding.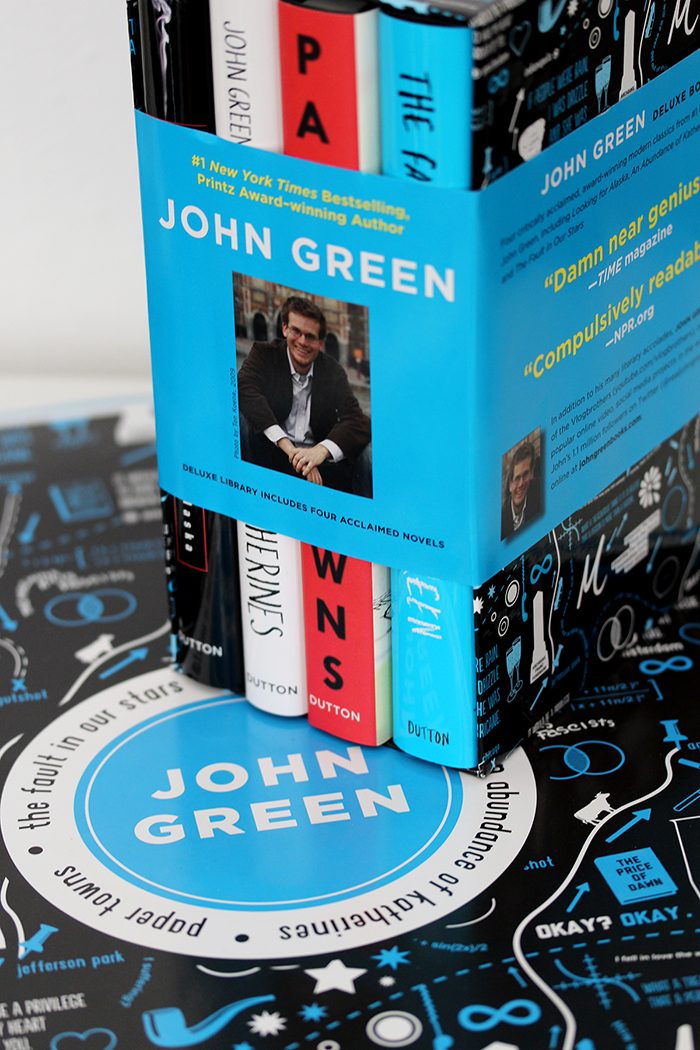 In November, the most exciting project I've ever worked on was finally released – the John Green Box Set. I've done design work for John online for years, but this is the first time I designed something official with his publisher, something that is actually sold in stores. The reception has been really positive, and I'm really happy with how it came out – and also that I got to design something official for Time Magazine's #1 Fiction Book of the Year! Check out the blog post for more info about the process of designing it and more photos of the box set itself!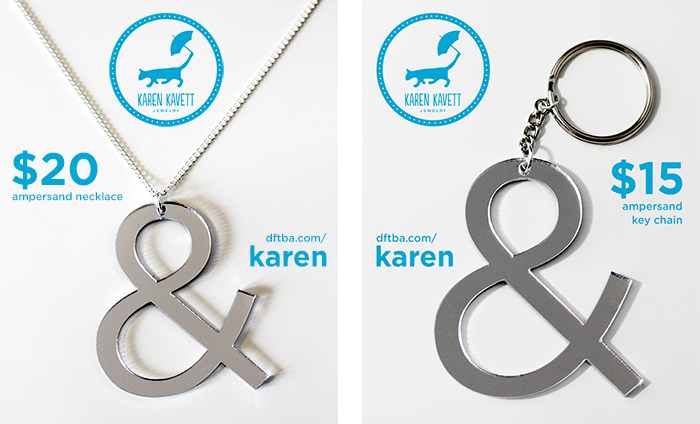 The next exciting project I launched was the silver ampersand necklaces and key chains. This is the first time I've ever tried to sell merch, and rather than just make yet another tshirt, I wanted to do something different and sell handmade lasercut jewelry, especially since everyone always asks where I get all of my custom jewelry from. They're still available if you'd like to buy one from DFTBA, or check out the blog post for more info about how I made them.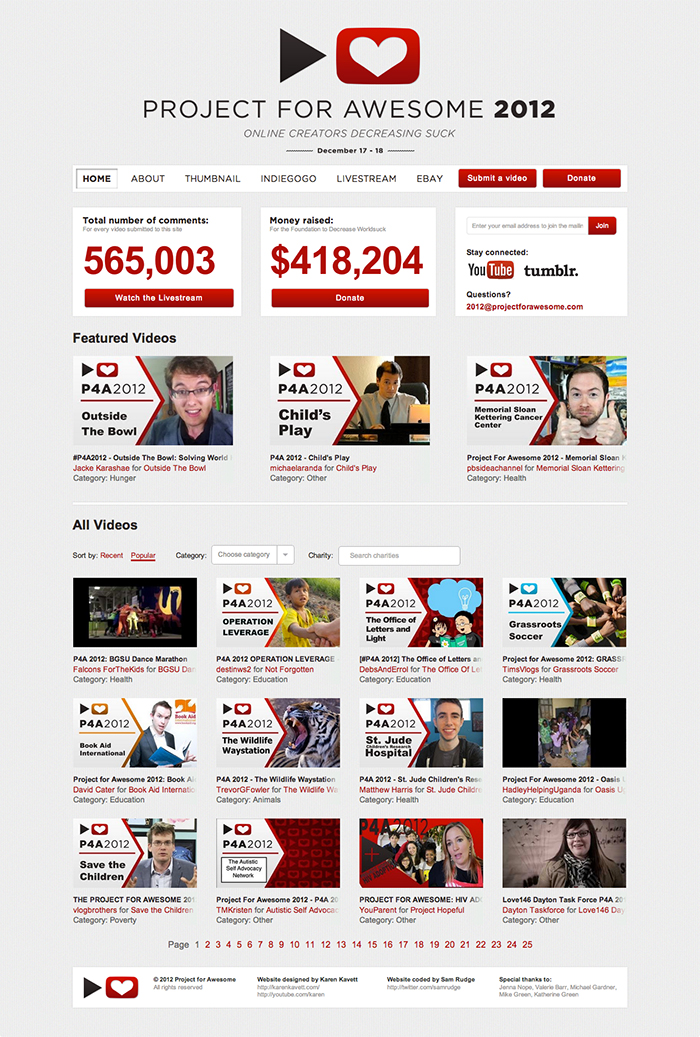 And since now that we've reached December, it's Project for Awesome time. I was once again in charge of all of the design work for the P4A, including the website, the thumbnail, and some Tumblr graphics. This year's P4A was a huge success, raising over $440,000, and I'm so happy that I got to be even a small part of that. And this year I finally managed to write a blog post documenting the P4A designs, so you can check that out here, or if you missed my P4A video about charity: water, you can check that out right here.

I ended the year with a project called Karen Kavett's 12 Days of Christmas, where I posted new content every single day for the 12 days leading up to Christmas Eve. This included stuff like the 2013 Don't Break the Chain Calendar, some Nerdfighter Mad Libs, an archive of fakejohngreen photos, and Christmas crafting videos. If you missed any of it, you can get links to all of the 12 Days content in this blog post.
Thanks so much for reading this long post about all of the stuff I managed to make in 2012. I'm so excited to see what 2013 brings, and to get back to making videos once my voice recovers. Be sure to subscribe to my YouTube channel and follow me on Twitter and Tumblr to stay up to date with everything I do in the new year!