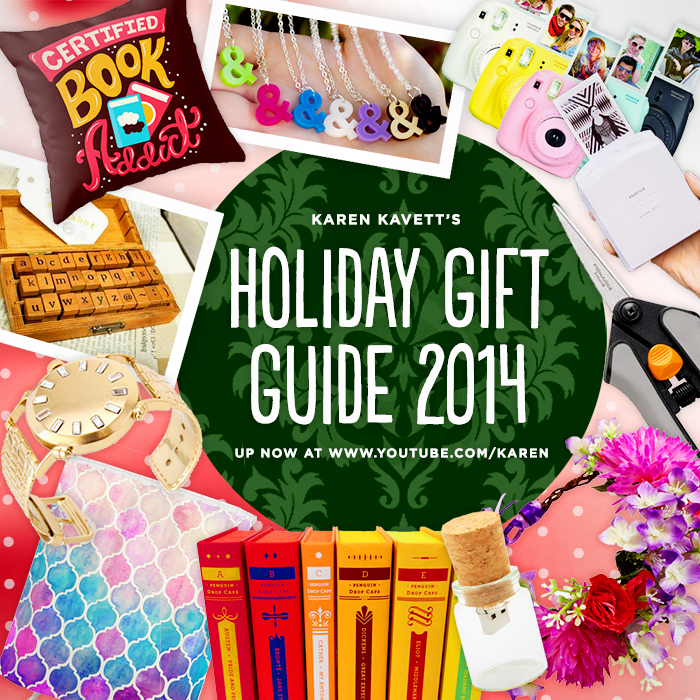 It's that time of the year again – time for my annual Holiday Gift Guide for graphic designers and crafters! I'm so excited about everything I picked out this year, and I hope you guys like it too. Keep reading to watch the video and get links to everything I talked about!

Here is where you can buy everything I talked about in the video:
My ampersand, interrobang, and reblog necklaces, and other merch
Risa Rodil's online shops: DFTBA, Society6
Fujifilm Instant Camera & Film
Fujifilm Instax Printer
Fiskars micro-tip scissors & other craft supplies
Simon's Stamps
Alphabet Stamps
Crown and Glory
Mr. Kate's jewelry and Timeless Cuff
Shower Curtains from Society6
Penguin Drop Cap books
Message in a Bottle USB drive
If you missed my holiday gift guides from the past few years, you can check them out here:
2013 Part 1
2013 Part 2
2012 Part 1
2012 Part 2
And if you're looking to give a gift this year, I would love to get Christmas cards from you guys in my PO Box to decorate my house with! This is the address you can send them to:
Karen Kavett
PO Box 341753
Los Angeles, CA 90034
Thank you guys so much for reading, and I hope you all have a very happy holiday season!