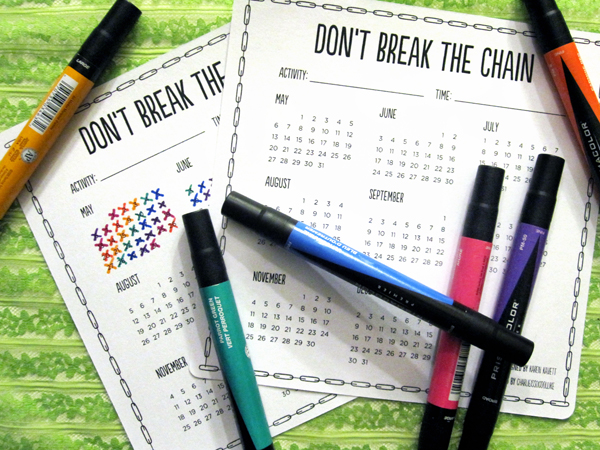 When I watched Charlie McDonnell (charlieissocoollike)'s video Don't Break the Chain last week, I knew that I had to design a calendar to try it out for myself. The idea is that you set a task and a minimum time for something that you want to do every day – whether it be exercise for 30 minutes or study French for an hour. Every day that you complete the task, you X the day off the calendar, and as you get a longer and longer string of X's, it becomes more motivation to do that task every day so that you don't break the chain.
Originally I had wanted to draw the whole calendar by hand, but as I began sketching it out, I knew that it would take far too long and I'd never get it done by May 1st. So, I hopped on Photoshop and laid the whole thing out in one of my new favorite fonts, which I originally bought for last week's style videos. I decided to only design it in black and white so that people with only black and white printers wouldn't get a sub-par product, and also so that people could customize it however they wanted, like this or this.
Fun fact – on the night April 30th when I was finishing up the design, I had a terrible headache, but I really wanted to get it done by the 1st. So, I ended up squinting at the computer lining up numbers and editing photos while clutching my head in pain. But I'm so glad I got it finished that night and I think it came out really well!
And finally, to answer a very frequently asked question, I will indeed make a full-year version. Just send me a reminder in December, and if there's still interest, I promise I'll design it by January 1st :)
You can download the PDF of the calendar right here and check out the original Tumblr post right here. Thanks so much to Charlie for making the video that inspired this, and I hope all of you find it useful when trying to stick to your goals!