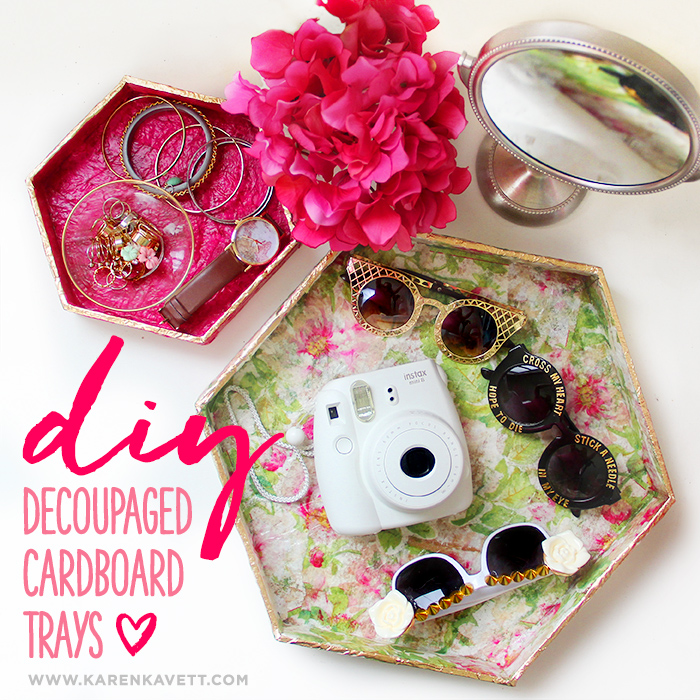 The past two weeks on HGTV Handmade have been all about our Tiki Party, but now it's time to get back to the normal DIYs, and I LOVE how today's DIY came out. I do at least half of my shopping online these days, which is very convenient, but I end up with piles of cardboard boxes that I'm always looking for ways to recycle into craft projects. So today I'm showing you how to use cardboard to make hexagon trays, that are decoupaged with napkins to give them a beautiful design!


I know the lighting is a little all over the place in this video, but I love how the final product came out. I might make even more in all kinds of other patterns and shapes and sizes.


I had to make a Pinterest-friendly graphic for this one. Feel free to pin it to share this project with even more people!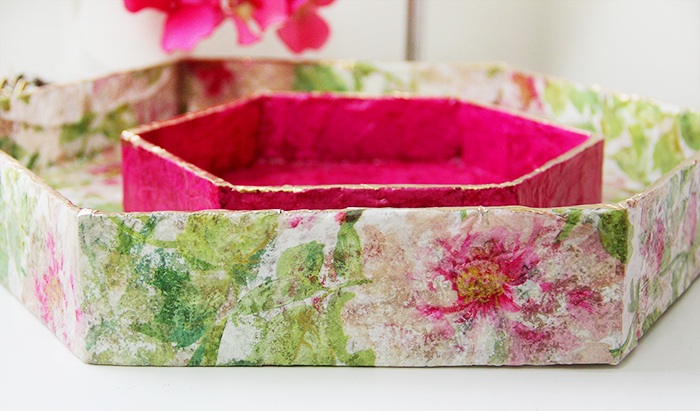 The only thing I wish I would have done differently is to paint the tray white before starting to apply the decoupaged napkins. The Mod Podge ended up turning the white parts of the napkins transparent, so you can see the brown cardboard underneath, and it would just look a bit brighter if I had started with a white base. But I don't mind so much, because it kind of adds to the vintage look of the piece. And it wasn't an issue with the solid magenta tray that I made, so only worry about this if you're going to be working with a light colored design.
But my favorite part has to be the gold gilding paint on the edge. How gorgeous does it look next to the floral pattern? Be sure to check out my 7 Ways to Use Liquid Gilding Paint video if you want even more inspiration on how to use it!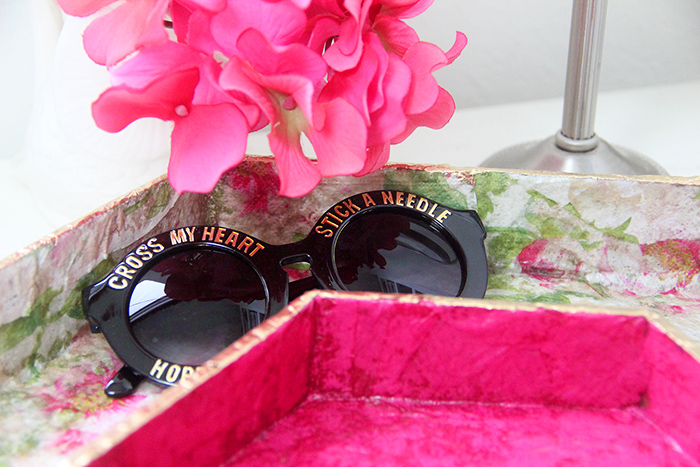 I originally bought these sunglasses on Amazon for a different DIY video that's coming out soon, but I thought they looked so good on the trays as well! Unfortunately I need to wear prescription sunglasses, so I can't actually wear them outside of the house, but I think they're just such a fun decoration.
Be sure to subscribe to HGTV Handmade if you're not yet, and tune in every Monday for a new DIY from me. And if you didn't see our two weeks of Tiki Party DIY videos that I edited, be sure to check those out. Thanks so much for reading, and I'll be back with a new DIY soon!